Published in Hong Kong News on
HK News: FINTECH drives the New Normal
The coronavirus crisis has proved a catalyst for digital transformation through financial technology - or fintech. As Hong Kong recovers from the Covid 19 pandemic, the city's tech sector is boosting confidence in the economy's "new normal" and helping businesses and individuals embrace new ways of doing business.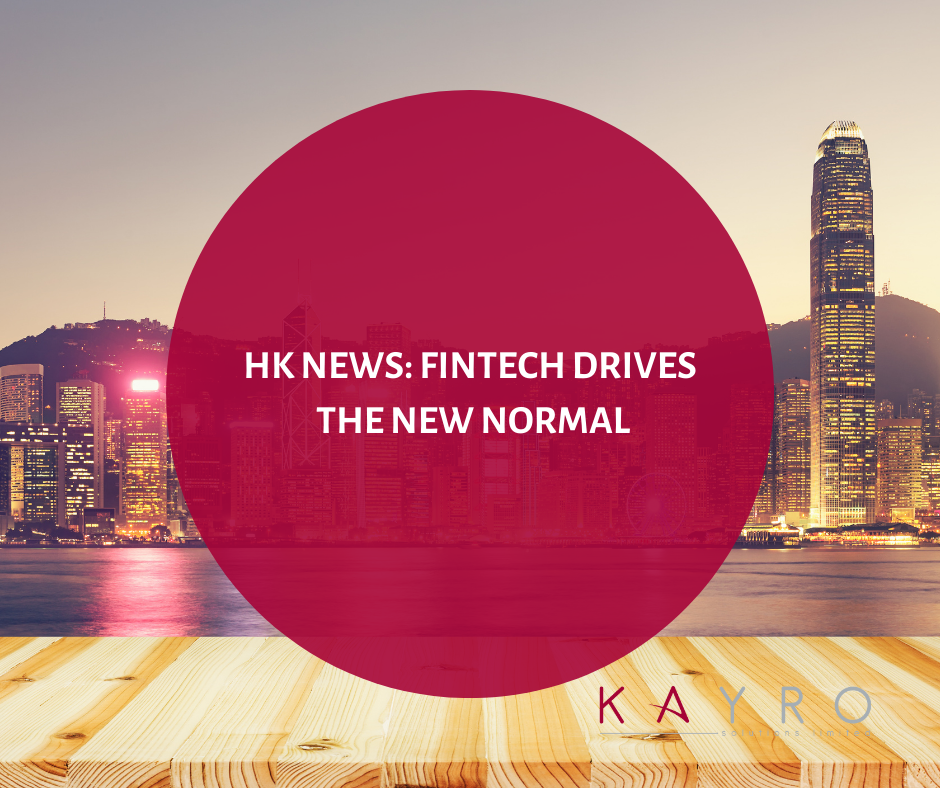 "The pandemic has led to accelerated demand for contactless payment systems worldwide. In Hong Kong, more and more merchants and consumers are adopting digital payments into their daily lives," says Forest Lin, President of Tencent Financial Technology and Corporate Vice President of Chinese internet giant Tencent.
Tencent has been operating WeChat Pay in Hong Kong since 2016. In 2018, WeChat Pay Hong Kong became one of the first licensees of a Stored Value Facility License (SFV) in the city, which supports cross-border mobile payments to China, among other things. Generally, an SFV is an advance payment or storage of a monetary value on a payment instrument that can be used to pay for goods or services or another party. This includes smart cards, such as gift cards or top-up cards, to wearable technologies such as watches and non-device-based SVFs that store the monetary value on mobile and internet-based accounts, such as e-wallets. "Today, there are more than 3.8 million registered users in Hong Kong, connecting over 90,000 merchants in Hong Kong and about 1 million brick-and-mortar merchants on the mainland, covering fashion, food and beverage, lifestyle and travel," Lin said.
Tencent is also a strategic investor in Fusion Bank, which received a virtual banking licence from Hong Kong's financial regulator in 2019 and launched in December 2020. WeChat Pay Hong Kong is working with Fusion Bank to allow the virtual bank's customers to use their bank accounts to transfer money to their WeChat Pay Hong Kong accounts.
"I think the collaboration and partnership between digital wallets and virtual banks will continue to help develop an ecosystem of smart financial services in Hong Kong and beyond," Lin says.
Players like Tencent show how Hong Kong has established itself as a major regional fintech hub, with extensive expertise and ample financial resources.
The Covid shock
The Covid pandemic has not only prompted fintechs to find useful solutions, but also enabled them to meet new and existing consumer demands.
"During the Covid 19 pandemic, one of the biggest global trends was the increasing participation of private investors in financial markets, many for the first time," says Kelvin Lei, co-founder and managing director of AQUMON, one of Hong Kong's leading wealth management fintech companies. "On the ground in Hong Kong, we have seen an increase in the number of users and new account registrations, during the lockdown months, with the number of account openings increasing by 365 per cent last year compared to the previous year."
Mr Lei attributed the increase to three factors: (1) more time, so consumers thought more carefully about how to manage their finances while working from home; (2) uncertain economic outlook, with customers seeking new channels for investment in the face of Covid-induced market volatility; and (3) technological advancement, which meant all consumers could open an account quite easily and start investing immediately via their smartphones or online.
"When faced with uncertainty, many consumers react psychologically by thinking about how to protect their wealth and how they can possibly grow it. With banks paying little to no interest on their savings, many consumers turn to investing instead," Lei said.
The rise of virtual banks is a challenge for traditional lenders, but instead of freezing or hiding behind protective laws, "traditional" banks are taking on the newcomers, which should lead to a more competitive and efficient market for consumers.
"A pure fintech company is usually more flexible in terms of business and operating model compared to a traditional bank," Lin said. "But I don't think there will be much difference in the future as many existing financial institutions are in the process of transforming and becoming more like fintech companies, and fintech companies are balancing innovation and risk management."
The challenges for Hong Kong will be to expand the fintech market on the one hand, but at the same time protect consumers.
Encouraging and challenging environment
Given the need to encourage growth while monitoring risks, the Hong Kong government is strongly committed to the growth of the fintech industry.
"AQUMON itself has benefited from this fintech support," says Lei. Founded in 2016 by the Hong Kong University of Science and Technology (HKUST), the company is backed by major investors such as the Alibaba Entrepreneurs Fund and receives extensive support from local tech hub and incubator Cyberport. "Through this nurturing start-up spirit, AQUMON co-founder Dr Don Huang was able to establish an artificial intelligence lab at HKUST," he said.
Such an environment is essential for fintechs to thrive, according to Tencent. "Tencent values the fintech ecosystem and we will continue to foster its growth," said Forest Lin. "Looking ahead, I think more financial institutions will turn to fintechs. An open and cooperative ecosystem will provide a win-win solution for everyone."
One fintech area that Tencent sees as increasingly important for Hong Kong is wealth management. "Tencent operates a wealth management platform in mainland China called Licaitong, which now has more than RMB153 billion in assets under management. We don't currently have a wealth management business in Hong Kong, but we look forward to working with local banks and wealth managers in the future."
McKinsey also predicts a bright future, but with many behind-the-scenes developments. Mr Ngai said that while advances in e-commerce and digital payments have grabbed headlines, "a lot more is going to happen on the non-consumer side".
He expects to see strong growth in regulatory technology, or "regtech" - which is the management of regulatory processes within the financial industry through technological applications - and in internal functions that use fintech. "There will be more trade finance, more B2B development, and another interesting trend will be fintech start-ups in the environmental, social and governance (ESG) space.