Published in ASEAN News on 16.09.2021
ASEAN News: Thailand to reopen Bangkok, Chiang Mai and three other cities to vaccinated foreign visitors from 1 October
The Tourism Authority of Thailand has announced that the country will reopen more cities to foreign tourists who are fully vaccinated from 1 October. Destinations to be given the green light to reopen under the second phase of the schedule include Bangkok, Chiang Mai, Chon Buri, Phetchaburi and Prachuap Khiri Khan.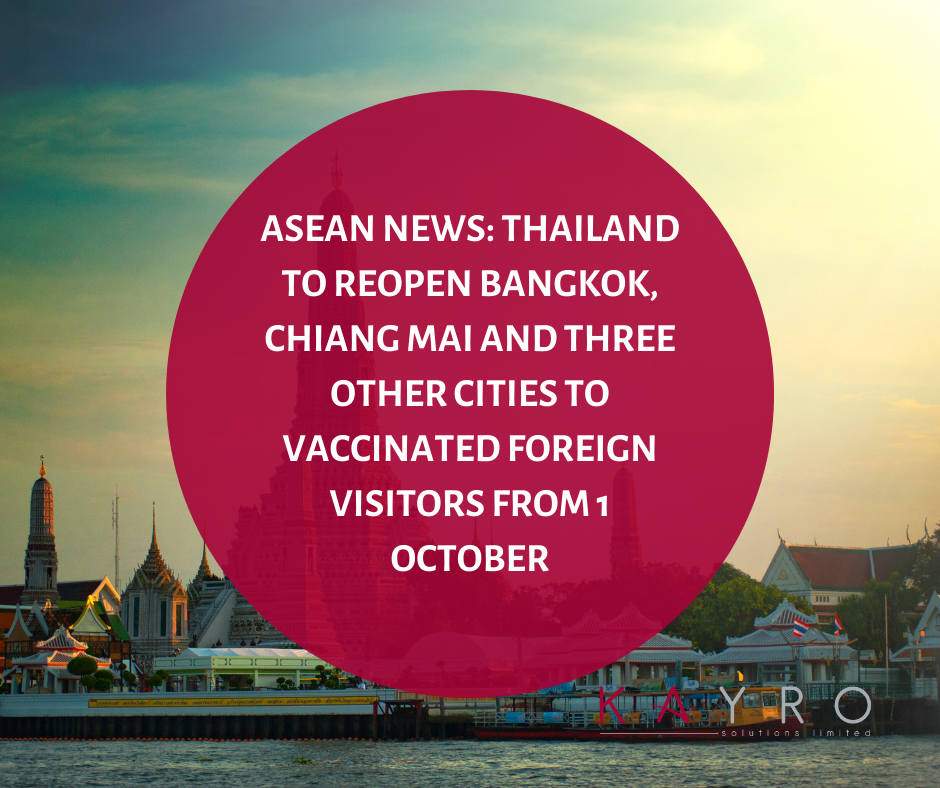 In the official statement released on 9 September 2021, government spokesman Thanakorn Wangboonkongchana said the plans reflect Prime Minister General Prayut Chan-o-cha's policy to gradually reopen the country after the first phase in which Phuket was reopened, followed by Surat Thani, then Krabi and Phang-Nga in the last two months.
"This October reopening is being launched in tandem with the newly adjusted guidelines for universal prevention against COVID-19 that Bangkok, Chiang Mai, Chon Buri, Phetchaburi and Prachuap Khiri Khan are preparing for, including accelerating vaccination of the local population and formalising tourism campaigns such as Bangkok Sandbox, Hua Hin Recharge and Charming Chiang Mai," Thanakorn said.
Another 21 destinations will reopen in mid-October, including Chiang Rai, Nan, Udon Thani, Ubon Ratchathani, Chanthaburi, Rayong, Trat, Ayutthaya and Songkhla. The fourth phase of reopening will follow in January 2022, when "13 border provinces will be reopened as part of travel bubbles with neighbouring countries".
Thailand will proceed with the fourth phase of reopening in January 2022, in which 13 border provinces will be reopened under travel bubbles with neighbouring countries.
In all four phases, 43 provinces across Thailand are expected to be reopened.
Mr Thanakorn also confirmed the success of the Phuket Sandbox programme over the past two months, which generated 1,634 million baht in tourism revenue at an average holiday cost of 61,894 baht.
Meanwhile, the Royal Thai Government also plans to boost domestic tourism through two stimulation campaigns, Rao Thiao Duai Kan (We Travel Together) and Tour Thiao Thai. Registration is scheduled to begin this month for the travel period starting in October, the beginning of the high season in Thailand.
The third phase of the Rao Thiao Duai Kan campaign will subsidise 40 per cent of hotel room rates or airfare, and there will also be a daily e-voucher worth 600 baht. Under the Tour Thiao Thai programme for package tours, the government subsidises 40 % of the price or up to 5,000 baht per person.